Sound Isolating Earphones - Metallic Green
This product is no longer available
Product Number: 41824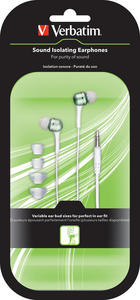 Product Information
Silicon ear bud provides comfort
In-ear seal created by silicon ear buds block external noise
Neodymium speaker driver provides superb sound quality
3 sizes of ear buds included in the pack for the perfect fit
Available in 3 vibrant colours
Verbatim 2 Year Limited Warranty.
Product Specifications
Speaker Diameter (Driver): 9mm
Magnet Type (Driver): Neodymium
Cable Length: 1.2 meters
Plug Type (Jack): 3.5mm
Maximum Power: 3mW
Frequency Range: 20Hz - 4.0KHz
Impendance: 16 Ohm
Sensitivity: 102dB
Pack Dimensions: 130 x 255 x 25mm
Weight: 13 grams
Product Summary
---
Verbatim's Sound Isolating Earphones isolate the music that you are listening to from outside noise.

Fitting comfortably inside the ear, the silicon ear buds create an in-ear seal that blocks external noise and delivers the sound closer to the ear. With 3 sizes of ear buds included in the pack, you can find your perfect fit. They are ideal for portable media players and gaming systems and are available in 3 difference colours, white, metallic green and metallic pink. The choice of colours means that you can match your earphones to your MP3 player!


The sound quality with the Sound Isolating Earphones is also superb due to the Neodymium speaker driver, providing banging bass directly to your ears!

Verbatim 2 Year Limited Warranty.

Product Number: 41824