SecureClip Earphones - White and Pink
This product is no longer available
Product Number: 41828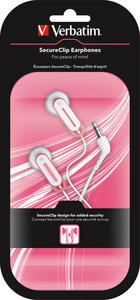 Product Information
Convenient SecureClip design for added security
Soft ear buds for added comfort
Ultra lightweight for portability
Ideal for portable media players and gaming systems
Available in 3 vibrant colours
Verbatim 2 Year Limited Warranty.
Product Specifications
Speaker Diameter (Driver): 13.5mm
Cable Length: 1.2 meters
Plug Type (Jack): 3.5mm chrome plated
Maximum Power: 30mW
Frequency Range: 20Hz - 20KHz
Impedance: 16 Ohm
Sensitivity: 96dB
Dimensions: 130 x 255 x 25mm
Weight: 16 grams
Product Summary
---
Verbatim's SecureClip Earphones have a convenient SecureClip design which keeps the earphones together round your neck when not in use. This design feature offers peace of mind, knowing that your earphone will not get lost.

These ultra lightweight earphones have soft ear buds for extra in-ear comfort. They are ideal for portable media players and gaming systems and are available in 3 difference colours, white, green and pink. The choice of colours means that you can match your earphones to your MP3 player!


Verbatim 2 Year Limited Warranty.

Product Number: 41828