Neck Band Multimedia Headphones
This product is no longer available
Product Number: 41821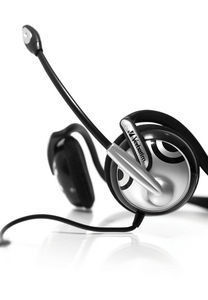 Product Information
Lightweight, over the ear and behind the head design, for comfort in use.
Flexible and fully adjustable microphone
Microphone noise cancelling feature reduces background noise
2 m cable length for more flexibility at your desktop
VOIP, music and gaming use.
Verbatim 2 Year Limited Warranty.
System Requirements
Speaker and Microphone plugs.
Product Specifications
Frequency Range: Speaker: 20Hz - 20KHz
Microphone: 30Hz - 16KHz
Sensitivity: Speaker: 97dB
Microphone: -35dB +/-3dB
Impedance: 32 Ohm
Maximum Power: 100mW
Cable Length: 2 meters
Jack: 3.5mm
Pack Dimensions: 167 x 250 x 91mm
Weight: 84 grams
Product Summary
---
Pack Dimensions: 167 x 250 x 91mm
Weight: 84 grams

Ideal for chatting over the internet with SKYPE or MSN, Verbatim's Neck Band Multimedia Headphones have a lightweight over the ear and behind the head design making it comfortable for prolonged use.

These multimedia headphones feature a flexible and fully adjustable boom microphone making Voice Over IP (VOIP) easy! The microphone also has a noise cancelling feature which improves sound quality by reducing background noise.

Verbatim 2 Year Limited Warranty


Product Number: 41821