Multimedia Audio Bar
This product is no longer available
Product Number: 49093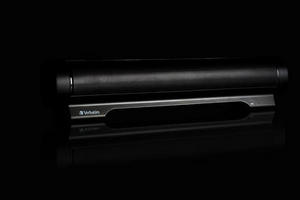 Product Information
Smart matt black and glossy surface
Blue LED power indicator and volume control 
Built in microphone / speaker and microphone connectors for PC or laptop 
3.5mm headphone jack and 3.5mm stereo input jack
AC Power 
Quick Start Guide in 12 languages
Free hotline support
Verbatim 2 Year Limited Warranty
System Requirements
Available 3.5mm stereo audio (green cable) & microphone jacks (red cable) in PC or laptop. 
Product Specifications
8 Watts (RMS) Total Output Power
Speaker Size: 2 x (30x70mm) drivers and 1 x 2'' woofer 8 Ω Drivers. Pre amplified and magnetically shielded metal speakers
LED Power Indicator and Volume Control
Built in Microphone
Frequency Response: 120Hz - 20kHz
Power Source: CD 12V 1A adaptor
Signal Input: AUX IN (3.5mm Stereo Input) Jack, 3.5mm Stereo Audio Cable (Green), 3.5mm Stereo Headphone Jack
3.5mm Microphone Cable (Red)
Speaker Dimensions: 370 x 76.5 x 63mm (W x H x D) 
Product Weight: 604 grams
Pack Contents:
Verbatim Multimedia Audio Bar
3.5mm Stereo Audio Cable
AC Power Adaptor
Quick Start Guide in 12 languages inc. English, French, Italian, German, Spanish, Portuguese, Polish, Hungarian, Czech, Russian Croatian and Serbian.
Product Summary
---
Enhance your audio performance

Verbatim's Multimedia Audio Bar is a 2.1 speaker system, that fits perfectly on the desktop underneath the LCD monitor, connecting conveniently to the PC or laptop via the stereo audio cable.

Complete with an aux line in port, it is also compatible with all line-in audio sources, such as MP3 players, portable CD players and games consoles. The sleek black design with blue LED indicators will not look out of place on the modern desktop.

The Audio Bar also includes a built in microphone on the front of the speaker for hands free chatting over the internet. The end of the Audio Bar is the power and volume control dial. Turn the dial clockwise to turn on the speaker and increase the volume and counter-clockwise to decrease the volume and turn off the speaker.

Verbatim 2 Year Limited Warranty.


Product Number: 49093