Folio Case with LED light for Kindle - Pearl White
This product is no longer available
Product Number: 98080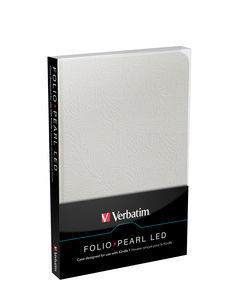 Product Information
LED light - Clear and crisp LED light for reading in low or no-light conditions, powered by Kindle.
Metallic Colour - Fun and stylish designs in three metallic finishes.
Easy & Secure - Kindle clips securely into place with ease.
Full Access - Provides full access to all buttons without the need to remove the Kindle from the folio.
Verbatim 2 Year Limited Warranty.
Product Specifications
Product weight: 116 grams
Product dimensions: 182mm x 120mm x 13mm (H x W x D)

Kindle dimensions: 166mm x 114mm x 8.7mm (H x W x D)
Product Summary
---
Carry your Kindle in style and read anytime, anywhere with Verbatim's Folio case with LED light. The Folio LED protects the Kindle from everyday wear-and-tear in a chic design that allows the reader to view the Kindle screen in areas of low or no light.

Available in three metallic colours, the exterior leather-like finish gives the Folio LED a slim, sleek look that is ultra durable. The case fully protects the Kindle while allowing full access to all ports and buttons.


Product Number: 98080